Tinderboxing Engelbart Revisited
I've gotten some fun and interesting feedback on my previous discussion of using Tinderbox to take notes at a Computer History Museum event with Douglas Engelbart. Now that the feedback-loop has been reinforced, I've decided to address some of the questions and expand on the topic.
The Map View
My after-event work with my notes were done almost exclusively in Map view. It allows you to push around and group your notes similar to handling a stack of index cards.
After making a few rough piles of objects, I found a few themes emerging. I had notes about the event and its setting, notes about Engelbart's historical ancedotes, forward-looking observations, and so on.
I decided to add some "adornments" to help me better visualize these divisions. Here's a screenshot of the result -- you can see the five general areas that I used to help me think about my notes: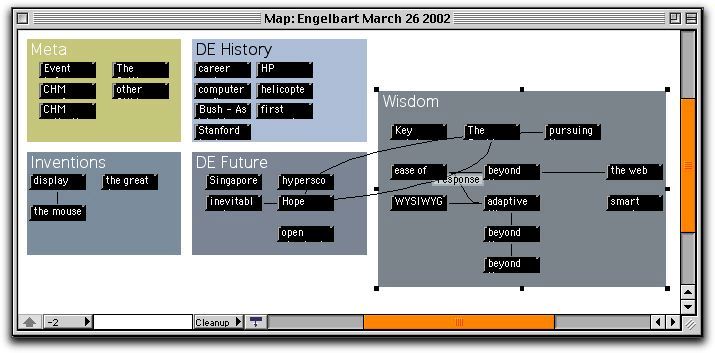 Making Connections
After the inital grouping I reviewed everthing again. I found some interesting themes weaving between some of the objects. Some had been discovered by the Agents (not shown above but discussed in my previous article) and others became apparent after viewing my notes through the new perspective afforded by the map I had made.
As these insights were popping out I was eager not to lose them. In my pre-Tinderbox days, I would have scribbled additional notes describing the connections. It's an approach I've used for years, complete with a specific shorthand notational-style. It works, but often the extra material dillutes the overall information space and requires a lot of cross-referencing that, even if done clearly, can be awkward to reconstruct when returning to the notes later.
This time I used Tinderbox's linking tools to quickly add connections between the related objects. I used direction to indicate which note originated the "ah ha" in my mind, and the "type of link" tools to clarfy what I thought the connection between them was. Now I was working with two views at once -- the Map so I could see the spatial relationships and the Explorer view so I could read the contents of the objects without having to do too much window management. Here's a typical Explorer view: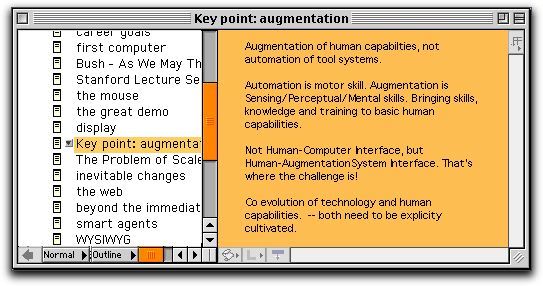 Finishing Up
Clearly this exercise served a couple of purposes. I organized my notes, but I was also learning and "playing with" Tinderbox -- pushing its limits and hoping to find it suitable to my working style. I found that it got out of my pretty quickly during these simple and basic operations. And once the software itself receded, the value of the information itself and my understanding of it emerged.
Along the way I also discovered a few things about Tinderbox that I need to better understand and decide how to utilize.
I was frustrated by some of the finicky behavior in the Map view. Stacking and piling objects works, but it's too easy to lose one note under another. Perhaps I'm thinking too "flat" here and what I should do instead is embed notes within each other, but a way to nicely tile a stack of notes would be welcome.
The Adornment feature was very useful but I guess they're simply decorative and an adornment's representation in other views can be confusing. After setting up my notes as shown above, I wanted to export them to HTML and retain the organization provided by the adornment objects in the Map view. I couldn't figure out how to do that. It appears that I should have either embedded the notes within another, as already noted above, or used an Agent that I set up to look similar to the adornment squares.
When you define a link you can set a Type attribute to add further information. For example, in the screenshot you see a link from "ease of use" to "adaptive interface" with a notation that the link type is "response." That's one of the pre-defined types provided by Tinderbox. It is the only one I used so I should define some types that make sense to me. I'll probably try to adapt my personal cross-referencing styles that I mentioned above. But, then again, carrying those forward to Tinderbox might be vestigial thinking.
Finally, I need to better understand the Exporting process. And just to further mess with my mind, I'm going to try and do so by creating a template that allows me to integrate Tinderbox-generated documents with Radio Userland.
(The fact that you're reading this now means I crossed that chasm successfully -- these notes were written in Tinderbox and exported to Radio for upstreaming and formatting. Yay!)
---
© Copyright 2003 Gordon Meyer.
Last update: 5/29/03; 10:41:01 PM.