Home
|
Stories
|
Politics/Humor
|
Web Usability/Humor
|
|
RadioRadio
|
Typography
|
About
|
Contact
ipaq 3800 Linux
Monday, September 22, 2003
[7:12:56 PM]
Status....
I mostly don't use the ipaq. For some reason, when the battery says it's at 50%, it becomes unusable. Every second or so it Opie pops up a dialog that it's time to recharge. Supposedly there's 50% left, so it's pretty stupid of Opie to make the computer unusable at that point.
I did, at one point, track down some information about how to fix that problem, but I'm *tired* of screwing around with it. The last I saw, Familiar on ipaq was not ready for prime time, and it didn't seem like anyone was testing it on the 3800 series.
So every now and then I copy the content of an article off the internet onto the ipaq and read it at the cafe. But usually when I want to do that, the battery is dead, because it runs down to unusable in a few days. So I have to plan ahead -- give it time to charge before I go to the cafe. It's mostly not worth it to me. I've got plenty of things to do.
It's *very* disappointing to me. Compaq's design was wretched, but the potential is so close.... If they had just done a few things right instead of wrong, this could have been an awesome little computer.
Now, *maybe* -- if I get the newest version of the software, fix the battery problem, and use it consistently -- it will live up to a little more of the potential. But I'm reluctant to waste any more time installing the operating system over (and over) again.
Ultimately the problem is that it is really not a pocket device. Compaq stupidly made a 'sleeve' to protect the screen, made the device itself slippery without the sleeve, and required a separate sleeve for a compact flash card (for networking, say). Even if I got all the software and the wifi working, it still takes a backpack to carry all the stuff around.
But *someday*, someone will come out with a decent, light handheld that you can attack to a decent keyboard. That'll be cool.



Friday, January 3, 2003
[10:34:00 AM]

Update on crashes. If I am careful to wait about five seconds between disconnecting the power, removing the network card, removing the sleeve, and turning the power off, it seems that I can reconnect the sleeve and insert the network card with crashing.
I also recharged while suspended in X-windows (instead of opie) and didn't have to reboot. That was nice.
I'd like to think that if I would upgrade to Familiar 0.6 that I could switch back to opie without rebooting, but the upgrade looked like it had the potential for peril, and it's just not worth another day of futzing right now.

[10:20:56 AM]

When I put photographs on my ipaq 3800 with Familiar, they seem *way* too dark. To get them to look about right, I use photoshop to change the "gamma". File -> Adjust -> Levels, then change the value from 1.0 to 2.0 on the dialog: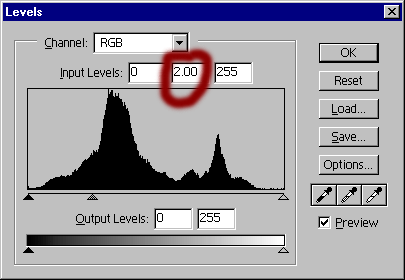 Saturday, November 9, 2002
[3:27:16 PM]

Update.... Since my late-October install of Opie, the 3800 crashes consistently when it recharges with the power "off". As far as I know, it crashes when it hits full charge, because after rebooting it has always turned out to be fully charged. I haven't tested whether it crashes the moment it is fully charged, or if it happens after some period of time.



Thursday, October 24, 2002
[6:31:52 PM]

Update on opie....
The worst thing is that it crashes now when turned off. If I turn it off before it's fully charged, it might not come back on.
Anyway, rebooting is only an embarrassment, not much of a problem.
I'm *very* sad that jove (an emacs-like text editor) doesn't work in the opie terminal. It also didn't work over the serial cable, but has been reliable over ethernet and with the stowaway keyboard.
When I switch to the terminal, it seems to insert a weird escape sequence on the command line.
Konqueror is pretty nice. I use a stylesheet for a lot of the web documents I carry around. People are impressed. It also runs javascript, so I can show off my small library of javascript-based user interface components.



Sunday, October 20, 2002
[12:04:27 PM]

Installing opie *again*.
The first exciting event is that ipkg install keeps stopping. Maybe their server is overloaded? Maybe that was the problem the last time I tried to install opie. All it takes to get beyond this -- apparently -- is persistence. Keep running ipkg install task-opie, and eventually it will get through.
There's an opie manual now.
The installation chapter tells you not to install x-windows. It doesn't say what to do if you already have x-windows installed. But it does tell you that ipaq 3100 and 3800 owners have to install qt-embedded-rotation. I've forgotten to do that once or twice.
The manual says opie will launch at the end of installation. It didn't for me. Perhaps because x-windows was already running, starting opie was a bit of a disaster. Then I rebooted, but the ipaq crashed. That's probably the kernel problem related to power and the compact flash sleeve.
Hmm. But the instructions didn't say 'task-opie-complete', which is what I've used before. Oops. Trying to install task-opie-complete gives me a Segmentation Fault error. That's not so good.
A few other packages give the same error, but many don't. Hooray! Minesweep installed ok. I'm holding my breath about Konqueror, which is really the only point to installing opie, for me.
Tried to install irda support.
First I got this problem:
ipkg install opie-irdaapplet ERROR: Cannot satisfy the following dependencies for opie-irdaapplet: openobex This could mean that your package list is out of date, (try "ipkg update"), or that the packages mentioned above do not yet exist. To proceed in spite of this problem, try again with the `-force-depends' option.
Using force-depends, I got this problem:
Installing opie-irdaapplet (0.9.1-20020923.1)
Configuring opie-irdaapplet.../opt/QtPalmtop/bin/qcop: error while loading shared libraries: libqpe.so.1: cannot open shared object file: No such file or directory
pkg_run_script: `/usr/lib/ipkg/info/opie-irdaapplet.postinst configure' failed.
ERROR: opie-irdaapplet.postinst returned 127
Darn. Well, in all the years I've had a Palm device, I've only ever used the infrared beaming three or four times. As long as Konqueror works, I'll be happy.
Joy! No segfault for install konqueror. Seems like the last time I tried to install konqueror it was off in some random feed somewhere. Now it's in the main feed at:
http://opie.handhelds.org/feed/ipaq/Packages
It's not only there, but it installs and works. I'm glad. My idea is to wave this ipaq in front of some folks tomorrow. I want to show both Konqueror and Dillo, as examples of the cutting edge of web usability.
Opie doesn't notice when you install or remove apps. Sigh. But you don't have to reboot:
/etc/init.d/opie stop
/etc/init.d/opie start
Next issue: switching between opie and x-windows. No problem, right? Just ipkg install wswap (from the familiar unstable feed).
To swap from OPIE to X, click the 'X' icon in 'Settings'
To swap from X to OPIE, click 'Utilities/Switch to OPIE'
It doesn't quite seem to work. I seem to be able to switch from opie to x, but when I try to switch back to opie from x, nothing happens on the screen. In my shell, I get the message:
swap to q: q already running!
I noticed the following error message:
swap from qt to x
sh: /etc/init.d/qpe: No such file or directory
It looks like I have an old version of wswap, that tries to use "qpe" not "opie". I couldn't figure out where I could edit, but I made /etc/init.d/qpe a soft link to opie, and that seemed to break everything.
So then I tried some batch files of my own.
#!/bin/sh
/etc/init.d/x stop
/etc/init.d/x start

#!/bin/sh
/etc/init.d/opie stop
/etc/init.d/opie start
That seems to work. X-windows seems to wipe everything out and start fresh, but opie seems to come back in the same state I left it.
The problem is that after I switch from opie to x and then back, the whole thing crashes when I turn the power off, and I have to reboot.
Sigh. Stay tuned, campers.



Saturday, September 21, 2002
[11:09:14 AM]

More ipaq/linux joy. Got a 64MB Multimedia card. Up until now, I've downloaded a batch of mp3s into the memory that goes away on reboot. I keep forgetting to download them again after a reboot.
So now I can have twice as many mp3s, and they won't go away if I have to reboot.
(Remember that SD cards don't work with ipaq linux -- SD cards require closed-source, proprietary drivers.)
I stuck the card in my ipaq 3800. Where's it show up? Well, you have to mount it:
mkdir /mnt/mmc
mount -o sync /dev/mmc/part1 /mnt/card



Thursday, September 5, 2002
[11:32:52 AM]

Joy in Mudville! Linux for the ipaq 3800 finally supports the Stowaway keyboard!
This morning I sat in Cafe Borrone playing jazz mp3s on my ipaq while I wrote an article on cookies and session maintenance for transaction-oriented websites.
Instead of carrying a laptop, I had slipped the ipaq in my back pocket, the headphones in my jacket pocket, and carried the folded keyboard.


Copyright © 2003 Licentious Radio.
Last update: 9/22/03; 7:13:05 PM.