| | | |
| --- | --- | --- |
| | Thursday, December 15, 2005 | --- |



Yesterday, during the 'Commissioner's Comments' portion of the Greensboro Parks & Recreation Commission, I used my time to relate a 'point of personal privilege'. Because the meeting is televised over cable Channel 13, it was the only way I could think of to thank my community in person for what it has done for my family during the past year.

You people can't imagine the outpouring of support we have received since Jinni's breast cancer diagnosis; spiritual support, emotional support and financial support have all flowed into the Hoggard home in copious amounts - and it continues.

Starting with the amazing and humbling blogger organized 'HoggFest' (more) back in May, Greensboro has taken my family under its collective wing and sent us soaring to heights of gratitude that I find extremely hard to express. But let me try.

Accepting the kindness of others, especially kindness that comes anonymously or from people you wouldn't know from Adam if you met them on the street, is kinda hard. It is especially hard when the only thing you have done to deserve such generosity was to share an experience with a community you really care about as a way to hopefully guide others who might find themselves in a similar circumstance some day.

Sure, we expected... and received... many emails, phone calls and letters from people thanking Jinni for helping them through their diagnosis and treatments for many types of cancer and other ailments. Her story was cathartic for many, and for Jinni it was a way to cope during many months of chemotherapy, surgery and radiation. After all, misery loves company, and the N&R's offer to publish 'Jinni's Journal' provided her with the company of 200,000 or so readers. We will be forever grateful to JR, Maria and others at the paper for that rare opportunity.

But what we didn't expect was money. Take yesterday...

The mailman brought an insured package to our door with no return address. In it was a little box. In the box was a note...

Dear Dave and Jinni,

I hope that this small gesture will help you pay bills or buy gifts. It has been a pleasure to collect it on your behalf. This has been a joint effort involving fellow members of our community. May your holidays be made a lot sweeter by virtue of our collection.

God bless, & Jinni, may you continue to feel better each day.

Anonymous homeowners

Inside the note was a cashier's check for $615.00. The "purchaser" line read: Friends in Moss Creek Development.

So, what do you say to something like that? How do you respond? How can you even send a note of thanks to "Moss Creek Development" when you have to utilize Google Maps just to find out where Moss Creek is? And this was just one of three gestures of support we received yesterday.

As inadequate as it feels to me, all we can really do is say thank you Greensboro, whomever you are and wherever you are. What you have done for my family has sunk in real deep and somehow the five of us will find a way to give it all back with compounded interest.

As Christmas approaches, I have not heard my children do their usual seasonal clamoring for a bunch of stuff that they really don't 'need' anyway. They seem to realize on some level that they have already recieved gifts beyond measure this year: A healthy mom and the good fortune to live in the finest, most unselfish and caring community imaginable.

Again, THANK YOU Greensboro... but you have done enough... it's our turn now.


9:12:59 AM
| | | |
| --- | --- | --- |
| | Sunday, November 20, 2005 | --- |



Today's N&R article about my family and cancer was hard to read, especially the things my children told reporter-turned-friend Maria Johnson. Things that have slipped through the cracks and seeped into the seams of my family's lives over the past year. Things that seemed trivial at the time... but really aren't.

Yeah, I know 16 year-old Jackson has been dropping not-so-subtle hints that he needs a new pair of tennis shoes now that the weather has turned too cold for his old Birkenstocks... I just keep telling him, "...maybe next week". Also, it's been hard watching him stand on the sidelines while Grimsley keeps rolling toward a state football championship. "He's lost so much weight...", head coach Shuping said in a concerned phone call shortly after practice started last August. What if we had taken him to the doctor sooner? Could a phsychologist have saved his place in the starting line-up?

Both of Jesse's siblings had braces by the time they were his age, and truth is, he needs them worse than the other two. He keeps asking... we keep stalling. The damn things cost $5,000, and we couldn't get a loan to pay for them if our lives depended on it. Our credit is shot. If you must know, none of us have even been to the dentist in about a year and a half - that's considered discretionary spending right now.

Jesse takes things in stride for the most part, and he has grown up a lot in the past year. But he's the sensitive one and clings more to Jinni and I now than he ever did when he was younger.

Reading about how we raided Josie's savings was harder than actually doing it. You do what you have to do, y'know. She's been the one who has worked her butt off to save up to buy a 1967 Mustang once she turns 16 on her birthday after next. Through all of this, she's been the most understanding of all. "It's OK dad...", she'll say, "I can wait."

The other night, I went with she and Jackson to a pot luck dinner for members and boosters of Grimsley's marching band. After the dinner they handed out packets explaining the particulars of the band's upcoming spring trip to Florida. Bottom line: $500 per child. Josie sat down next to me reading over my shoulder. "...maybe we can qualify for some sort of a scholarship.", she'd say. "We'll find a way...", I answered.

But to read the headline of Maria's article in this morning's N&R makes it all worth it: I had cancer.

So... while money is still tight, and while our mortgage company is threatening foreclosure (they're NOT getting this house), and while we continue to drive ancient automobiles - I've still got my girlfriend and my kids still have their mom.

As for the rest of it, we'll work it out.

**************

Here's the whole N&R published series of Jinni's Journal. My blog entries about the cancer year can all be found at "What's Up With Jinni". Maria's previous Hoggard-centric article is here.


8:33:00 AM
| | | |
| --- | --- | --- |
| | Thursday, November 03, 2005 | --- |



I just returned from taking Jinni to her last radiation treatment at the Cancer Center. She has absorbed everything they threw at her as is now cancer free.

Although the people that work there are just the nicest folks you would ever want to meet, it will be good to see them less often than we have for the past year.

I opened up the refrigerator last night and spotted two bottles of champagne. Jinni had bought them at the grocery yesterday for herself and any neighbors who might stop by tonight. During the doctor visit she let me know that she had also purchased the makings for her wonderful meatloaf and is planning to serve it up tonight.

How appropriate... meatloaf and champagne.

If you're not doing anything tonight, come on by and help us celebrate. We'd love to have you, but bring your own damn meatloaf.


10:56:39 AM
| | | |
| --- | --- | --- |
| | Wednesday, November 02, 2005 | --- |



One year ago today... rain fell. One year later, it is a beautiful sunny day.
8:55:43 AM
| | | |
| --- | --- | --- |
| | Sunday, October 30, 2005 | --- |



Marking the end of her breast cancer cure, the last of Jinni's 35 radiation treatments will be administered this coming Thursday. The day before, November 2nd, will mark the one year anniversary of her diagnosis.

After a year and a day of bad news, chemo, surgery, meatloaf, more chemo, more surgery, good news, laughter, nausea, financial devastation, community support, radiation, prayers, tears and more meatloaf - the Hoggard clan is emerging triumphant. There is no sign of cancer in Jinni's body.

While there will be many years of medical monitoring as we remain vigilent for her cancer's possible return, the hard part is almost behind us.

When I wrote the opening lines of our year-long cancer story the day after Jinni's diagnosis, there was no way any of us, or any of you, could have anticipated the ride ahead. But now, thanks to this medium and the kind offer from the N&R to publish Jinni's Journal, our year of cancer is as well documented as anyone could wish for. We hope our story will offer other cancer patients a glimpse at what to expect after their doctors have tried to gently utter the seemingly devestating 'C word' in the sterile examining room - the likes of which they will come to know all too well.

Know that a cancer diagnosis does not signal the end of your world. Moreover, cancer does not necessarily signal the end of your life as it did for previous generations. What it does signal is a time to hunker down and dig in for the long haul and do what needs to be done. Gather your wits and your resources, your friends and your family - and fight like hell. It works.

The final chapter of our cancer year is being written by the N&R's most-excellent Maria C. Johnson. In addition to putting together her expose' on yours truly in the summer of 2004, Maria has helped with the editing of Jinni's Journal over the past year (it was her idea).

It has been a pleasure again having her poking around our kitchen and front porch while ascertaining our take on Jinni's cancer battle from all five Hoggards. Needless to say she knows more about the workings of the Hoggard household than most anyone, so we are pleased that reporter-turned-friend Maria will be winding things up for us and you. The upcoming "Maria Treatment" will be published at some future date. As usual, I'll keep you posted.

********

Maria wrote a very moving article for today's N&R. " ...They could be anybody's kids. But they're not."

Read "Portraits from the heart".


10:31:07 AM
| | | |
| --- | --- | --- |
| | Monday, September 19, 2005 | --- |



Jinni starts seven weeks of radiation today which is where she leaves off in the latest version of Jinni's Journal. Her 7th submission in the ongoing series appears in the Life section of today's N&R.

In the article, she alludes to the story I told a few weeks back about the 'grocery angel' which is cross posted at 'What's Up With Jinni'. The entire series of N&R articles can be found here.

Joseph Rodriguez/News & Record

The accompanying picture is a true-to-life moment, except for one thing. Jack has his driver's permit and is supposed to get behind the wheel at every opportunity. Even though he turned 16 on September 1st, he ain't getting his license until he learns how to drive. And you can't learn to drive from the passenger seat, Jackson.


8:34:53 AM
| | | |
| --- | --- | --- |
| | Thursday, September 15, 2005 | --- |



Twenty-one years is a long time unless you have spent it with someone you truly love. Happy anniversary my love, my girlfriend, my Jinni.

To prove that she loves me, too, Jinni is fixing me a special dinner tonight. Meatloaf. What more could a man want?


9:15:30 AM
| | | |
| --- | --- | --- |
| | Wednesday, September 14, 2005 | --- |



I just got off the phone with a friend who echoed concerns from many other contacts I have had in the last several days. "Is everything OK?", he asked.

I suppose that one of the benefits and curses of having a life that it shared by so many is that Jinni and I have developed an extended family like no other. As with any family, if a member goes silent... something must be wrong. Well it is not. We are fine. But I sure appreciate the concern.

Since school started, the Hoggard family has barely had time to talk among ourselves. We go from sun up until sun down with hardly a break. We will settle back in to "normal" soon, but right now life is crazy.

Since Jinni finished the last of her chemo treatments we just have not dwelled on cancer stuff much. Her hair is coming back, as is her sense of taste. She is feeling fine. She went in to see her radiologist last week to get prepped for the seven weeks of daily radiation that will start next week. They drew lines all over her chest in order to calibrate the area of treatment and she is under instruction not to shower any more than absolutely neccessary to preserve the mapping.

You will be hearing from her yourself soon because the next installment of Jinni's Journal is scheduled for publication in the N&R this coming Monday. I'll not steal her thunder here.

Our 21st wedding anniversary is tomorrow but because of our schedules, the celebration will not be until the weekend. Busy, I tell you.

As for me, I have been getting my share of High Point University's campus improvement money. Double Hung has been restroring the windows in the Old Student Union Building since July 11th. We finished the job this past Friday. Business is good but money is still tight.

Tonight I chair my first meeting of the Greensboro Parks & Rec Commission. You can catch it on Channel 13 starting @ 6:00. I had a conversation with P&R Director Bonnie Kuester yesterday and she (jokingly) urged me to be on my best behavior. I told her I would do the best I can in that regard but no promises.

Anyway... we are here and we are fine. Just very busy. But I do know that I'd better get back on the job at this here blog in order to keep my first place ranking in the Best Blog category over at Go Triad's Reader's Choice Awards. The polling closes on Friday. Vote early. Vote often


10:22:21 AM
| | | |
| --- | --- | --- |
| | Sunday, August 28, 2005 | --- |



I've been on many roller coasters over the years, but few can compare with the ups and downs experienced while getting cancer out of our lives. Events of this past week will give an idea of what the ride is like.

Jinni had her last chemo infusion last Friday. In a celebratory mood, I went and bought her a bouquet before picking her up at the Cancer Center that afternoon. While she is normally drowsy following each treatment I expected she would be pleased with herself and exit the place triumphantly - but she was subdued even beyond the effects of the antihistamines they add to the weekly infusions. She was worried about a lump that had formed under her left armpit.

Having noticed the lump a couple of weeks prior, Jinni was going to speak to her surgeon to have it checked out but her scheduled appointment was not until early September. However, this past Wednesday she had a post-chemo appointment with her oncologist and she let him know of her concerns. Raising the concern level even higher, after detecting the mass himself he called Jinni's surgeon to get her in to see him the next day.

I had a long-put-off trip planned to Charlotte for Thursday and Friday that I could not get out of, so a friend agreed to go with her to the appointment in my stead. I made Jinni promise to call me while the doctor was examining her during the 2:30 appointment.

2:30 came and went. Then 3:30. Then I called her cell and got her voice mail. "Crap...", I thought, "its bad news or she would have called by now." A few minutes later my cell rang - it was Jinni, "I don't have much time because I've got to get over an pick up Josie from school... but everything's fine. It was another fluid filled cyst like the one I had back in June and they have drained it." "OK", I said, "I love you. Call me later" I had to stop fixing windows and sit down a minute.

Yesterday Jinni made a rare Saturday trip to the grocery. Wearing a baseball cap over her still emerging hair, a lady recognized her while shopping the aisles of the Harris-Teeter. The woman said she had been following Jinni's cancer battle through Jinni's Journal in the N&R and expressed how much she appreciated the articles. More small talk ensued and they went their separate ways.

Waiting in the checkout line, Jinni said out loud to the cashier that she had picked out a lot more groceries than she intended and noticed the store manager lingering nearby waiting for the bagger to load everything up. When checkout was completed the cashier said it would be $96.00. The manager immediately approached the cash register and informed Jinni that she was to keep her money in her purse because arrangements had been made for the purchase by an anonymous customer.

I'm telling you folks, its a roller coaster ride. In the space of three days we have experienced the depths of fearful uncertainty as well as the seemingly never-ending grace of human kindness.

*************************

When Jinni arrived home and told me the story, I suggested that next time she might want to consider shopping in Bill Black's Cadillac dealership or similar.


11:03:30 AM
| | | |
| --- | --- | --- |
| | Sunday, August 07, 2005 | --- |



I'm sitting here ruminating about life with a big ol' glass of Bourbon and noticing that I am spending way too much time not talking about my Jinni. With her post-surgery regime of 12 weekly chemo treatments, she only has one more round of Taxatere to go, and you need to know some things before we are through with this episode in our lives.

Chemotherapy can become 'old hat' to everyone except the recipient of the cure. When it all gets down to it, Jinni is the only person among us who is really having to suffer.

Sure, we can all offer words of encouragement, meals of meatloaf, and acts of unselfish love to get her through this but the fact is; beating cancer is a one person performance. The rest of us are merely stage hands. I have probably allowed complacency and the 'routineness' of it all cloud the fact that my girlfriend is a brave, strong but suffering woman. You can see it in her eyes.... she is ready to get all of this behind us. I am too.

Even with all of the wonderful support we have recieved since Jinni was diagnosed with breast cancer back in November of '04, the truth is that it all comes down to one thing - the patient's will to carry on. Jinni has that... in spades. But it has not been easy. Case in point...

*************************

Editing Note: This post got a little long so I moved it from the front page. Continue reading "Cancer is a long hard road".

Related update: Citing the cruelty descibed in the above post, Hardy Floyd says... "...When I was younger, I used to think that the greatest evil out there was racism. I no longer think that...."


10:28:05 PM
| | | |
| --- | --- | --- |
| | Monday, August 01, 2005 | --- |



My brood has been in Gatlinburg, TN since Thursday night attending a family reunion for the paternal side of Jinni's family; namely the Tapscotts and the Burtons. It was great to re-acquaint ourselves and our kids with far-flung uncles, aunts and cousins - some of them of the 'removed' variety, others with much closer-in blood. The Hoggard clan assembled up there a few years ago in celebration of my parents' 50th wedding anniversary so we knew the lay of the land pretty well and avoided much of it.

For those of you who haven't visited the Gatlinburg/Pigeon Forge area in a while, picture it this way: Myrtle Beach's Ovean Boulevard on a mountain road. Because of our (read my and Jinni's) aversion to such tourist traps we tended not to stray very far from our precariously constructed 'chalet' that was situated almost at eye level with Ober Gatlinburg's famous tram. But we made our own fun.

As the trams wafted by every fifteen minutes stuffed full of 100 or so folks taking in the breathtaking beauty of the Great Smokies, a whole deckful of Hoggard/Tapscott kids and adults would stand next to the railing on the third floor of our 'chalet' and wave at them like crazy people until we got a reciprocal response from all aboard.

But our 11 year-old Jesse had another way to elicit a response from those who had paid their $9 to see the local scenery. When he thought his grandparents were otherwise occupied he'd present the tourists with a fleeting, but full, North Carolina moon.

I really like that boy.

*****************

Epilogue: Fifteen-year-old Jackson has had his driving permit now for nine or ten months but he just refuses to drive any Hoggard-owned car due to the fact that our old, beat-up, but fully-paid-for vehicles just aren't worthy of his coolness. However, during tonight's drive home I convinced him that he really needs to get in some high-speed Interstate driving experience and that no one would recognize him while doing so.

He took the wheel of our 12 year-old Plymouth Voyager after a dinner stop in Hickory and headed down I-40 with me in the co-pilot's seat and Jinni sitting in the back seat whilst taking up cigarette smoking again just for the occasion.

The existence of these words will attest to the success of Jack's Interstate efforts: we-did-not-die. However, only mere minutes after our eldest successfully parked the van in our driveway, Jinni headed upstairs and took to our bed mumbling something about an upset stomach. As for me, I was real grateful we had not taken all of our Bourbon to the mountains.


12:26:12 AM
| | | |
| --- | --- | --- |
| | Friday, July 22, 2005 | --- |



Yeah, we're back. We left out of Orlando around 6:30p Wednesday after the Wreckers final game (which they lost). During that game Jesse made a wonderful outfield catch so he was pumped up all the way home - we finally arrived on Cypress Street around 3:00a yesterday. All in all, a great trip.

I got up yesterday in plenty of time to drive Jinni over to her 9th post-surgery chemo treatment. She has now recieved two of the lower dosages of Taxatere and her body is tolerating it remarkably well. The other chemo related development is that she went ahead and got her head shaved while we were gone because her hair was thinning very quickly. I suppose if you are going to have a shaved head, the current hot weather is a good time to improve one's cranial ventilation. She looks good (nearly) bald - just as she did the last time she lost her hair back in January. Three more treatments to go and we will be shed of that part of our lives.

Other than that I have not stopped since awakening yesterday morning. I have been attempting to return all the phone calls and reply to all of the emails I received over the past 10 days. The correspondence was a healthy mix of a business, personal and public nature. If I still owe you a reply - I'll get to it.

***********************

I have been keeping up with all of the local goings-on and plan to enter into the various frays when I find a good jumping-on point. But right now I'm still in a vacation state of mind when it comes to all of the important stuff happening in our little burg.

The big question is if I have decided to run for City Council or not? I have made up my mind both ways about seven times now which gives me pause. A good friend sagely advised me yesterday that unless I am 100% committed to the process I should probably wait. Well I've been 100% as recently as yesterday, and then my resolve gets kicked down a notch or two when I let the realities of my current station in life seep back into the big picture.

So, you'll know when I know.


11:07:32 AM
| | | |
| --- | --- | --- |
| | Thursday, July 07, 2005 | --- |



Tuesday, Jinni was sick as hell and she just wasn't going to take it any more. After having to leave work and spending the rest of the 90+ degree day wrapped up in a blanket in the living room she decided to call her oncologist for an appointment. She was convinced, and I concurred, that something just had to give. Her energy level was near zero.

We knew that the effects of twelve weekly infusions of Taxatere were to be cumulative instead of immediate, but if she felt as bad as she did after the first seven treatments, what would the next five weeks have in store? We weren't willing to find out without exploring some options. Even though she was scheduled to get her next round of the drug today, we wanted answers yesterday. Mainly she wanted to try to convince the oncologist that she thought she might possibly be able to endure eight weeks of the drug, but twelve? ... In her mind, it just wasn't going to happen.

After a long consultation with the finest nurse-practitioner on the planet, Jinni's problem became apparent. She was losing weight at an alarming rate. Because of the metallic taste that Taxatere induces in her mouth Jinni has been eating like a bird for some time now. And when she does eat a little something, many times it won't stay down very long. When she started chemotherapy back in November she weighed in at a lithe132, as of yesterday she was at 117. The last time they took her weight was 1 1/2 weeks ago when she was at 124. Losing 7 pounds in under two weeks raises all kinds of red flags among the medical crowd.

The nurse went and told the doctor what was going on and he popped into the room with his plan of action. "First", he said, "I'm going to give you a break. I'm cancelling your treatment for tomorrow." With that, tears of gratitude welled up in Jinni's eyes as a glimmer of hope for a little normalcy crept into the examination room. "Then I am am going to change your dosage, this is obviously too much for you. You gotta eat, you know...", he continued. More glimmers.

He went on to say that she would not get out of taking all twelve treatments because he was going to tack the skipped one onto the backend of the regimen. But by lowering the doseage, things would certainly be much more tolerable and hopefully her constant nausea would diminish and her appetite would return.

Also, because it seems none of the high-folutin' nausea medicines have been doing their job, she spoke to the nurse and doctor about wanting to try 'medicinal marijuana'. Citing the presence of teenagers in the house, she has been reticent to find out how it might work for her. She said she could just imagine one of our kids sensing the smell of weed coming from the bedroom and how much of a buzz kill that might be. The doctor understood her point and prescribed a surprising new drug: Marinol. 'Mary Jane' in pill form. We'll see how it works (emphasis on the 'we'll' part).

As we left the Cancer Center after the hour long appointment, Jinni had a definite spring in her step. When we got outside she sang like a little kid, "Naa n na naa na... noo chemo to mor row.", as her spirits and energy level popped back to more familiar levels.

Best. doctor. visit. ...ever.


7:15:35 AM
| | | |
| --- | --- | --- |
| | Monday, July 04, 2005 | --- |



Even the sunniest of dispositions can be eclipsed by the effects of chemotherapy. My girlfriend is no exception. The latest N&R installment of Jinni's Journal reflects how she is fairing after seven (or is it 8?) months of seemingly never-ending infusions of chemo and way too many doctor visits.

She really means it when she says, "... I'm ready for this to be over." All of us are. Five more treatments to go.

Bonus: When Scott Hoffman came over to take the photo for this installment, Frank jumped up in the treehouse with us. You remember Frank don't you?


7:11:58 AM
---
© Copyright 2006 David Hoggard.
Last update: 2/15/2006; 7:41:06 AM.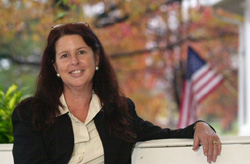 For Jinni Hoggard, on her porch swing in Greensboro, chemotherapy means going public with her cancer and losing the long, auburn hair she loves. (Lynn Hey/©News & Record) w/permission
The weblog entries presented on What's Up With Jinni were authored by Jinni's husband, David. They are reprinted from HoggsBlog and reflect David's view of the family's experiences. Click on the underlined dates on the calendar below to read entries going back to the initial diagnoses in November '04. To read Jinni's Journal, see links below.
February 2006
Sun
Mon
Tue
Wed
Thu
Fri
Sat
1
2
3
4
5
6
7
8
9
10
11
12
13
14
15
16
17
18
19
20
21
22
23
24
25
26
27
28
Dec Mar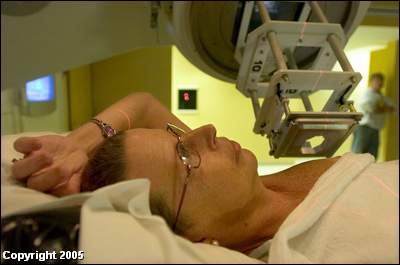 Lasers pin-point the spot of focus of radiation as technicians make adjustments prior to Jinni's final radiation treatment as husband David looks on. David and others had to leave the room when the machine was activated.(Kelly Pace/©News & Record w/permission)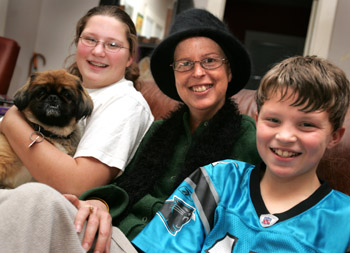 Jinni with son Jesse and daughter, Josie, at their Greensboro home. Another son, Jackson, is not pictured. Chester looks on.(Kim Walker/©News & Record w/permission)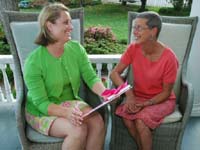 Jinni Hoggard (right) visits with her neighbor, Louisa Lauver, about Hoggfest, a fund-raiser to help with medical bills. (Ki-Eun Kweon/©News & Record w/permission)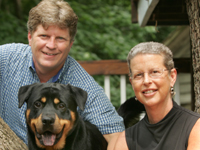 Jinni Hoggard with her dog, Frank, and her husband, David, in their back yard. (H. Scott Hoffmann/News & Record/©News & Record w/permission)
Jinni was contacted by the Greensboro News &Record to write a periodic column during her battle with breast cancer. Jinni hopes that her experiences will help others understand the process of getting through the disease. Online versions of her columns are below. Check back for updates.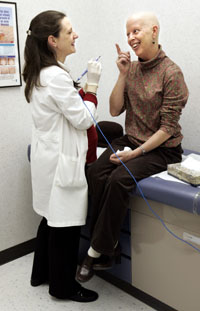 Jinni Hoggard (right) jokes with her dermatologist, Dr. Carol Woody, during a checkup before a trip to the beach, where she plans on soaking up the sun. (Kim Walker/©News & Record w/permission)