Mittwoch, 1. Dezember 2004

---
(Titel googlen!)
Wikinews geht an den Start: "Kann das kollaborative Konzept der Wikipedia auf die Produktion einer Nachrichtenseite übertragen werden?"
(Via Telepolis News (26.11.2004).)
7:02:20 PM
trackback []
---
(Titel googlen!)
(Via SPIEGEL ONLINE.)
7:01:54 PM
trackback []
---
(Titel googlen!)
"Cocoa frontend for OpenSSH's sftp/scp clients"
(Via VersionTracker: Mac OS X.)
6:56:28 PM
trackback []
---
(Titel googlen!)
"Mark Frauenfelder: Matt Vine sez: Since yesterday, the rest of the world has been buzzing with news of the World Health Organization's warnings of a impending flu pandemic that could kill up to 100 million. These warnings are suspiciously missing from American news sites - we get things like 'Godzilla honored with 'Walk of Fame' star' from CNN's front page.' Link
UPDATE:
Alex Rosen sez: 'Well, the Times is carrying it, and has a much different spin than the submitter's. It sounds like off-the-cuff guestimates by one guy, not a prediction by WHO itself.
While the agency has previously said that the death toll would be from 2 million to 7 million people, Dr. Omi said the toll 'may be more - 20 million or 50 million, or in the worst case, 100' million.

W.H.O. officials in Geneva said later that they had not received an advance copy of Dr. Omi's remarks and did not know the basis for his estimates and why he believed a pandemic was so likely.

'No one knows how many are likely to die in the next human influenza pandemic,' or even when it will occur, said Dr. Klaus Stöhr, the agency's top influenza expert. 'The numbers are all over the place.'
"
(Via Boing Boing.)
6:54:41 PM
trackback []
---
(Titel googlen!)
"
That deal Apple cut with Motorola to put iTunes on their cellphones certainly got a lot of people all hot and bothered about the prospect of an iPhone, and the latest bit of completely unconfirmed gossip is that the two parties have signed a second deal to create a motoPod or a PhonePod or whatever. Apple might end up doing a cellphone someday, but fanboy fantasies aside, we're not feeling this one.

[Thanks, Ron]
(Via Engadget.)
6:53:09 PM
trackback []
---
(Titel googlen!)
289 Seiten als pdf (2 MB)
http://www.im.nrw.de/sch/doks/vs/Verfassungsschutzbericht_2003.pdf 6:41:57 PM
trackback []

---
(Titel googlen!)
"Frank Paynter asked bloggers why they blog. I wrote my own answer."
(Via Scripting News.)
6:14:46 PM
trackback []
---
(Titel googlen!)
"This screen shot illustrates something very cool about the Atom feed format. (If you've written an RSS parser but haven't done Atom yet, you might find this interesting.)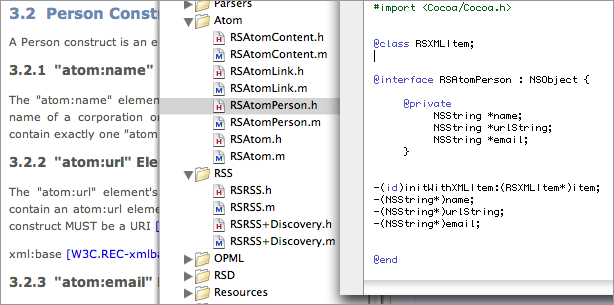 What you're looking at is part of the Atom spec (leftmost), then part of the list of files of my XML-related classes, then the interface for a class named RSAtomPerson.


(Note to people who don't program in Cocoa: the 'RS' prefix is there because, in Cocoa, you typically prefix your class names with some initials—your own, your company's, or the name of the project.)
Object-oriented thinking
Atom is more complex than RSS, yes—but, at the same time, the Atom folks did a cool thing that mitigates this complexity: they defined certain 'constructs' that are re-used in different places. If you're using an object-oriented language (such as Objective-C, Python, and C++) you can map these constructs to classes.


For example, a Person construct has three pieces of information: name, URL, and email address. Wherever a person is identified in an Atom feed, it uses a Person construct. You might have a whole bunch of Person constructs in a single feed—but, each time a person is identified, it's done the same way.


There are other constructs too, for content, dates, and links. (The Content construct is probably the most complex, but you only need to do it once, and then you can handle titles, summaries, and content elements.)


What I like about this is that it practically tells you how to write an Atom feed parser: it suggests breaking up your code into a collection of small classes for each of the different constructs. Though an object-oriented language isn't required to parse Atom feeds, the Atom spec is a case of object-oriented thinking applied to feed formats, which is cool.


Going back to the screen shot—you can see it, a direct line between the spec and its expression in object-oriented code. Nice."
(Via inessential.com.)
6:10:45 PM
trackback []
---
(Titel googlen!)
"

MP3 kit consisting of a RIP Flash recorder and a MicTube



Maycom market two useful units for the reporter on a budget. The MicTube
Professional microphone pre-amp is just that. Most MP3 recorders or Mini Disc recorders do not have a proper MIC input, but a line input at best. This tube clips on the bottom on a balanced XLR microphone and allows you to set the output level on a simple meter. It uses an internal battery. It costs 169 Euro, excluding BTW in the Netherlands.

Maycom also market an MP3 recorder sourced in East Asia. It does a fine job in making MP3 recordings - great for speech recordings. Not really the best for serious music recordings. A RIP_Flash MP3 recorder & the Mic Tube cost 299 Euro, excluding VAT (19%). "
(Via Broadcast Gadgets.)
6:06:36 PM
trackback []
---
(Titel googlen!)
"

This is the a Dutch product from Maycom.



This device includes a built-in microphone and is compact in size. The Maycom HandHeld offers rugged and reliable digital portable recording for both professional and consumer use. You can connect an external microphone which plugs into the base of the device using a special adapter cable. Opinions are divided as to whether this cable is rugged enough for the sort of tough conditions journalists meet in the field. Personally, I found the built-in microphone to be excellent, although you can't put a windsock on it for publicity purposes.


The HandHeld recorder uses industry standard compact flash cards to store high quality, digital audio. The cards are robust, able to operate in severe environmental conditions and can be changed very quickly. Audio recording capacity depends on the size of flash card, but these days can easily be as much as 6 hours (using a 320 MB flash card at 128 kb/sec.).

Docking Station

The docking station is a fully equipped multi functional desktop device. It acts as the re-charger for the smart battery pack, but also provides (additional) loudspeaker functionality and external interface options. It offers connections for 2 microphones, a headset and PC (through USB). Maximum portability is secured through the 12 volts DC adapter next to the standard 100-240 VAC.

Through its USB connection, or via a Compact Flash Card reader, the audio can be directly ported from the HandHeld to a laptop or central computer system for further editing, communication or transmission.

Price? They sell the recorder on its own, but then you are required to use your own alkaline cells (that's 699 Euro excluding VAT). A kit with the recorder, plus docking station (XLR connectors) and a 128 MB flashcard costs 999 Euro, excluding VAT. I think an extra 300 Euro for batteries, a charger and a Flashcard needs review since the prices for Flash memory have dropped.

MAYCOM is a trademark of SOLID SEMECS BV, Oostwijk 18, 5406 XT - Uden
The Netherlands. Tel: +31 413 339 700. E-mail: sales@maycom.nl
"
(Via Broadcast Gadgets.)
6:04:32 PM
trackback []
---
(Titel googlen!)
"

Mayah's Flashman recorder. This is a rugged Flash recorder designed for the radio journalist. It is rugged and accepts Canon inputs from a microphone.

"
(Via Broadcast Gadgets.)
6:02:26 PM
trackback []
---
(Titel googlen!)
"
Adam Curry tells me
Hugo Schotman
is collecting data about radio-like production for the I-pod. So what is your experience with podcasting studio setups? Please click the title above to share all the gory details with the world.
You can send your setup details at:
podcasting@mac.com
.
Hugo writes...
I do not want to become a helpdesk but I wouldn't mind collecting and aggregating studio setup details for a while. As soon as it makes sense to move this to another place - when more people are actively working on it for example - I'll gladly move it over.

Platforms: preferably Mac Os X. I can post details about Linux, Windows or other setups but I can't verify/test them and will not do anything else with the information.

What should be captured:
1. How to set up a stable environment!
Anything that makes a setup more or less stable should be shared so not everybody has to go through the same trouble.

2. How to reduce latency.

3. What settings produce the best sound.

Questions:
- What were you doing when the recording crashed?
- Which applications were running/ playing audio when the recording crashed?
- Which applications are you using? (Include URL if it's a new one.)
- What are the exact settings of your applications?
- What have you tried that didn't work?
I have offered to collaborate to test software/hardware for the Windows Platform.
"
(Via Broadcast Gadgets.)
6:00:06 PM
trackback []
---
(Titel googlen!)
"Das World Wide Web Consortium feiert zehnjähriges Bestehen"
(Via heise online news.)
5:56:20 PM
trackback []
---
(Titel googlen!)
"tiltowait writes 'As reported on LISNews.com, the Internet Archive has lost a copyright lawsuit which challenged the Congressional lengthening of copyright terms and conditions. The ruling has implications for abandonware and other copyright-eligible materials that have no active owner. Brewster Kahle plans to appeal the decision.' The decision is available. As we noted in an earlier story, the Eldred case challenged the length of copyright expansion, this one challenged the breadth, and so far, this one is going about as well as the Eldred case did. Stanford has an overview of the case."
(Via Slashdot.)
2:52:19 PM
trackback []
---
(Titel googlen!)
"Eine herrliche Aufnahme der Raumsonde Cassini zeigt den Saturn Mond Mimas, vor der kalten, blau gestreiften nördlichen Hemisphäre Saturns.


"
(Via Raumfahrer.net News.)
2:33:13 PM
trackback []
---
(Titel googlen!)
"Bevor ein neuer Planet entsteht, bilden sich in der Staubwolke rund um eine junge Sonne erst einmal Kristalle"
(Via Telepolis News (26.11.2004).)
2:14:05 PM
trackback []
---